MINSKAYA-4
Carbonated chloride-sodium fluorine-containing medicinal mineral water.
MINSKAYA-4
Description:
The legendary mineral water of natural origin has moderate natural mineralization and possesses well-balanced composition of salts and minerals, what makes it possible to regularly drink it for general rehabilitation of the organism and preventive treatment of diseases connected with the digestive system and metabolism.
Ingridients:
Natural mineral water from wells № 4(390m), 5(380m), 7(360 m), located on the territory of CJSC "MZBN
permanent natural composition for 40 years
preparation
modern equipment
multi-staged tastes testing
guarantee of quality
water from artesian well
MINSKAYA-4 light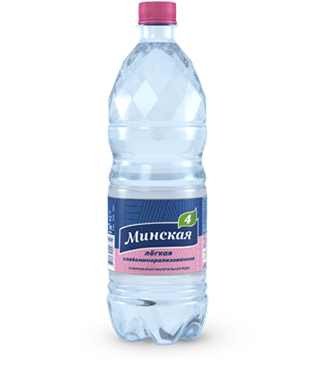 Description:
Natural mineral water having the light mineralization degree. It is good for every-day use, it restores losses of microelements required for good health and enhances immunity.
Ingridients:
Mineral water from well №3(418m), drinking water from artesian wells №6(106), 8(280m) 9(110m), located in the territory of CJSC "MZBN"
water from artesian well
preparation
modern equipment
guarantee of quality
own laboratory